Welcome to our official newsletter,
KSP Loading…
! If you want to learn about all the current developments of the KSP franchise, then this is the place to be!
Kerbal Space Program Update 1.10 on PC
As most of you know by now, we are currently working on the final details for the 1.10 release. Launching on July 1st,
Kerbal Space Program 1.10: Shared Horizons
is special in many ways. For starters, we have partnered with the
European Space Agency (ESA)
to bring two iconic and historic missions to the game,
BepiColombo
and
Rosetta
, as well as a bundle of brand new parts and variants to resemble the components of their real-life counterparts. In addition to that, we're bringing
ESA
's spacesuit and the
Ariane 5
heavy-lift launch vehicle into the game. Coupled with that are new planet and part revamps, performance improvements, a bunch of bug fixes, as well as a few quality of life features. We'll be going into more details about this exciting update, so buckle up.
ESA Missions
Thanks to our partnership with
ESA
, we're bringing two of their most impressive and groundbreaking missions to KSP for you to experience for yourself in the upcoming
Shared Horizons
free update. Best of all, these missions will be available for all to play, regardless of whether or not the player owns the
Making History
or
Breaking Ground
expansions.
Arianne 5
For these missions, you'll be equipped with an
Ariane 5
analogue, which we teased a few weeks ago. This brings to Kerbin a version of
ESA
's premiere heavy lift launch, capable of putting over 20 tons into LKO. Based on your feedback, we did some adjustments to the fairing and the second stage to better resemble the look of its real-life counterpart.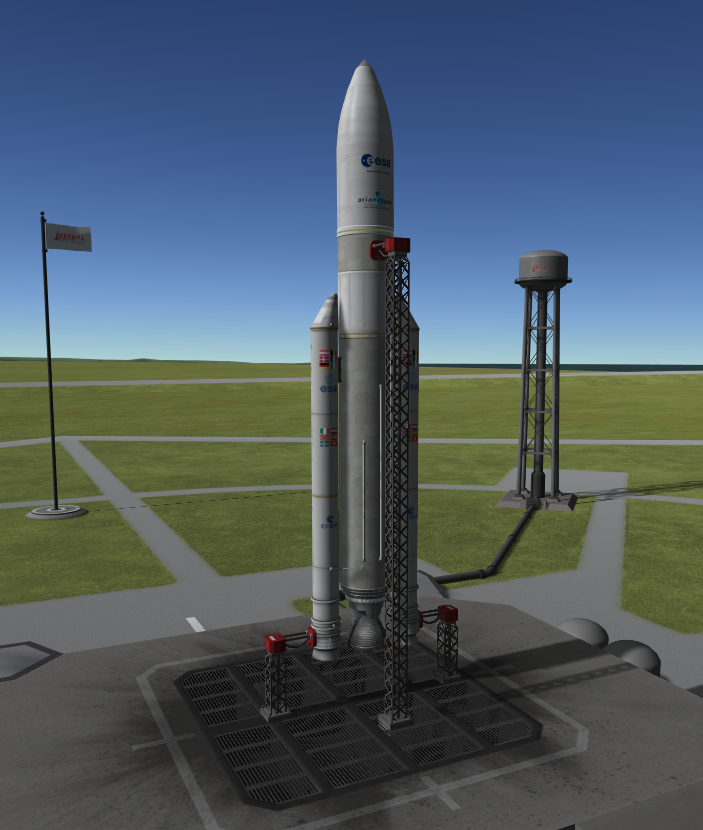 BepiColombo and BepiColombo Spacecraft parts
Like
JAXA
and
ESA
's joint endeavor, in this mission you'll visit the innermost planet of the solar system to study its magnetosphere and surface characteristics. Launch from the KSC with a kerbalized Ariane 5 and deploy the Moho Transfer Module (MTM), which will carry the Moho Planetary Orbiter (MPO) to its destination using ion thrusters. You'll have access to the new Magnetometer Boom to carry out scientific experiments on that distant planet. Just like humans in our world will go on making further discoveries about Mercury, what mysteries will Kerbals learn from the planet orbiting nearest their star?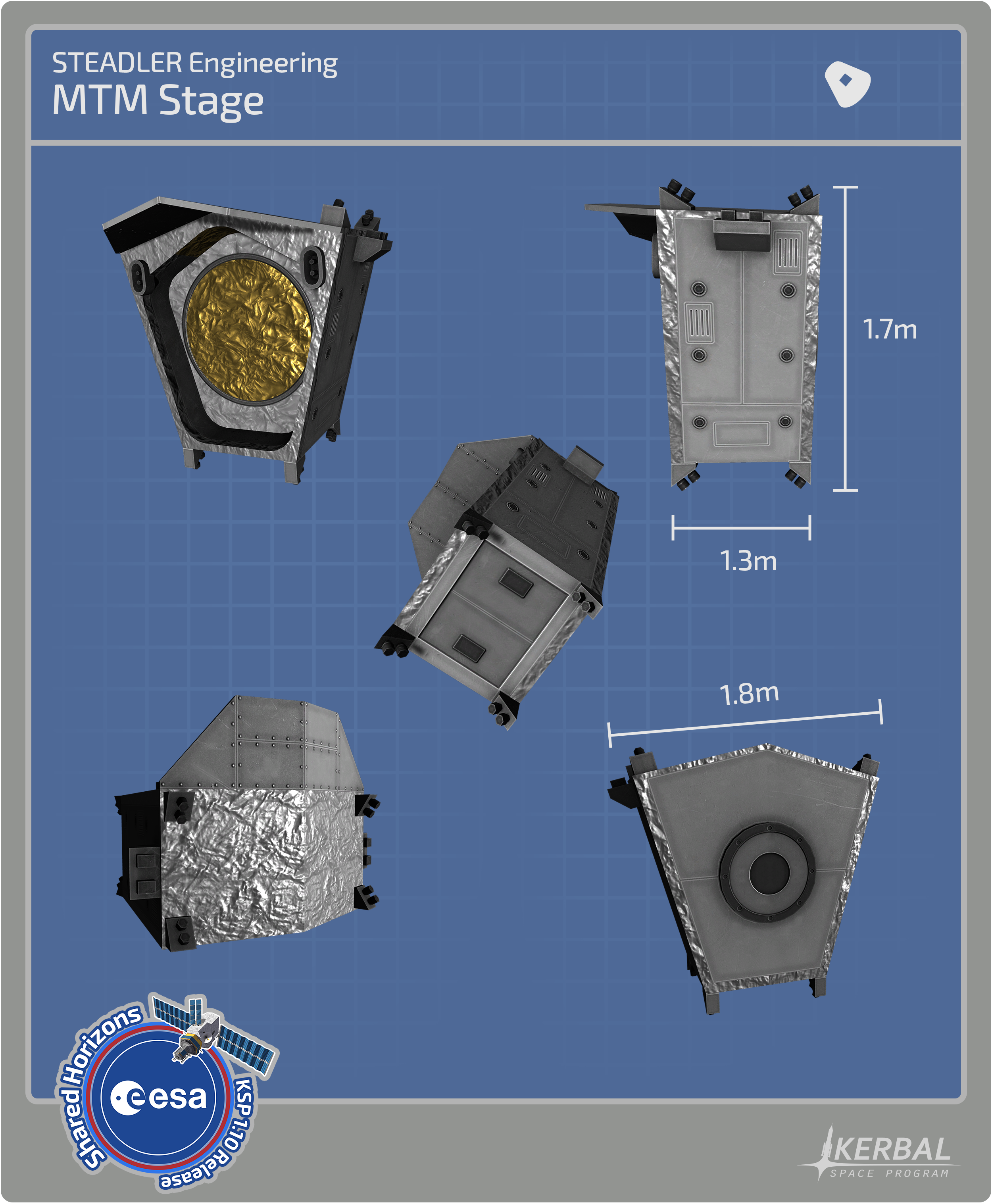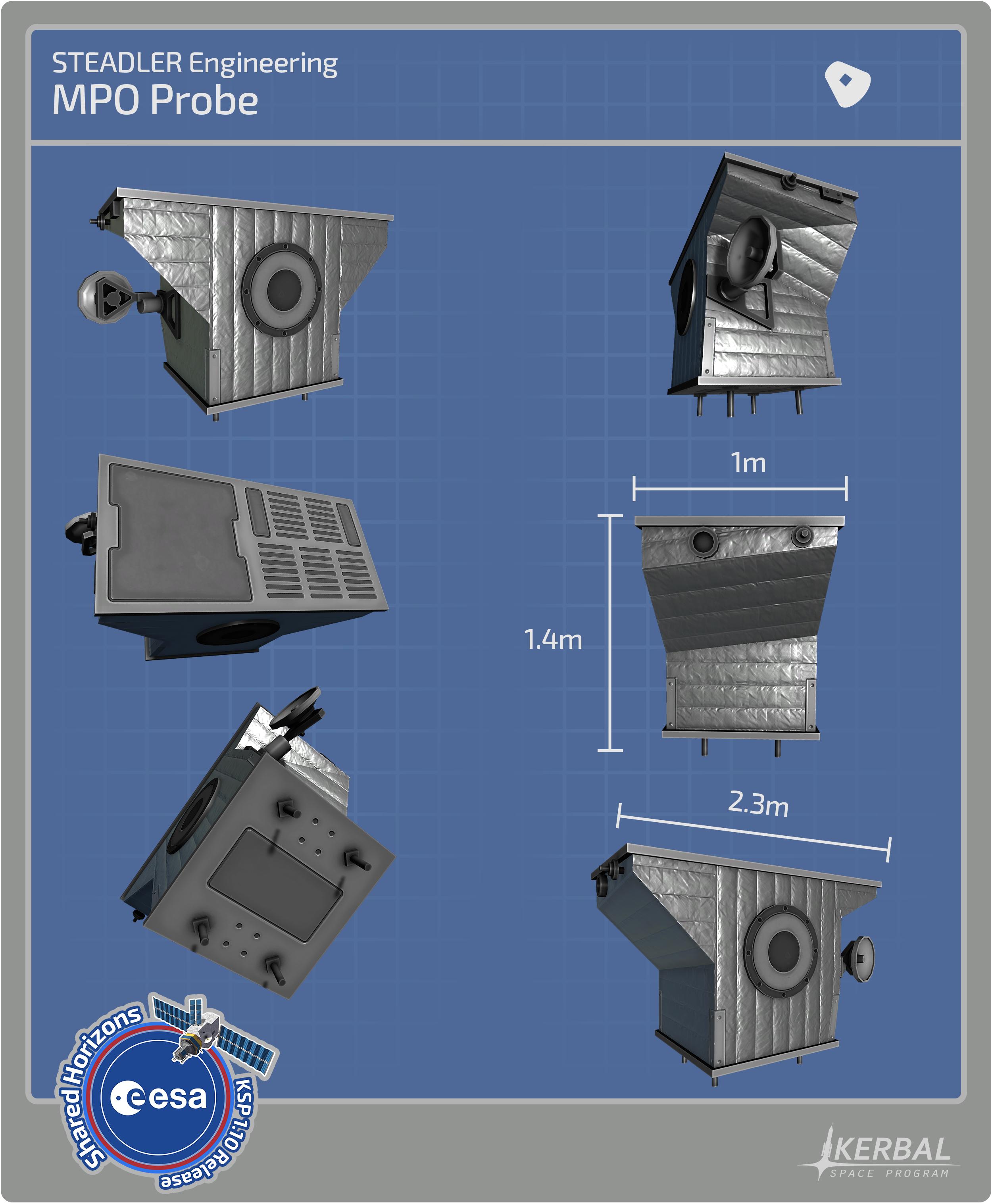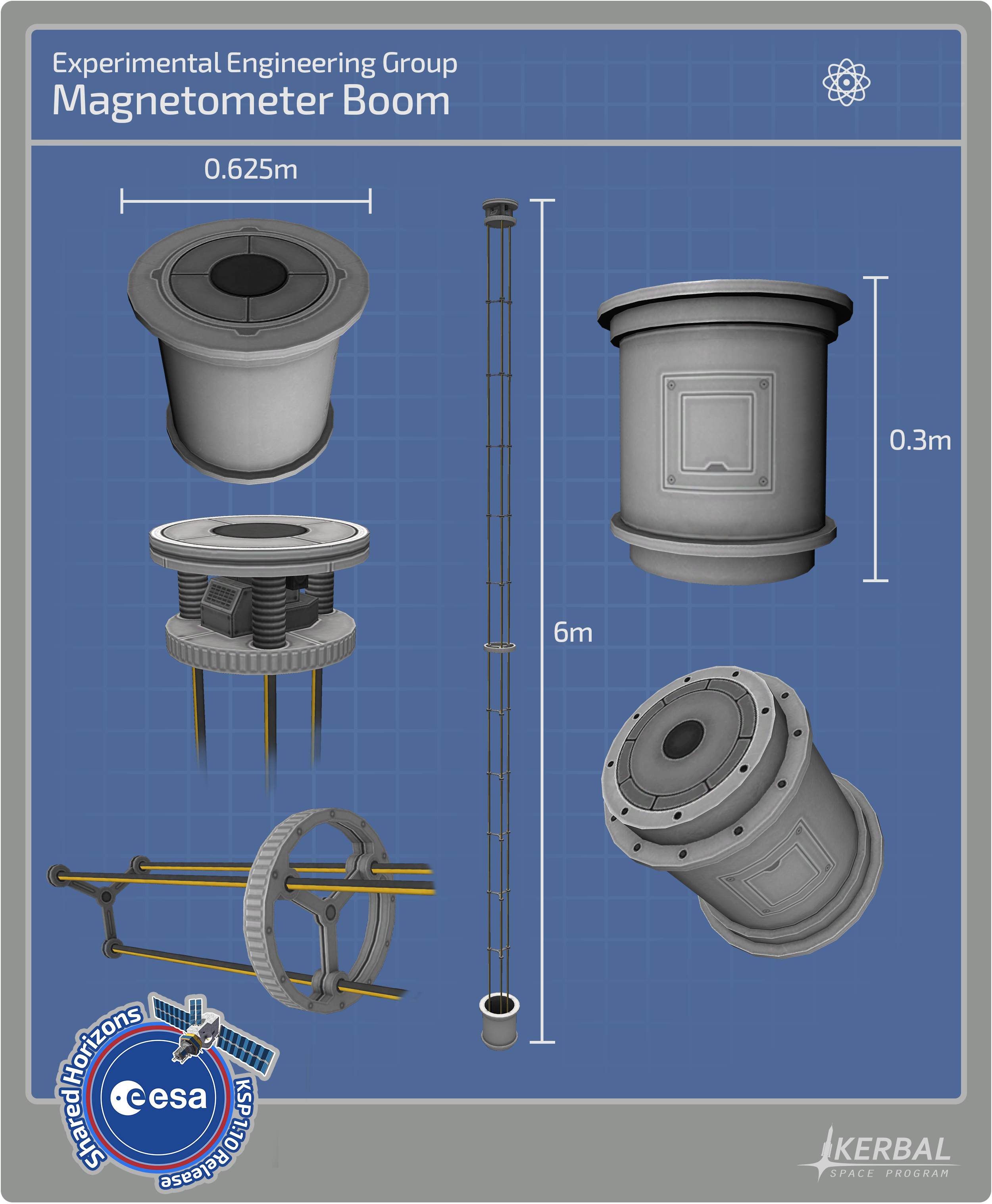 Click here
to see high res images.
Rosetta …and Comets!
Just like its real-life counterpart which launched in 2004, in this mission you'll intercept a comet and drop the Philae lander module on its surface. This means not only that you'll get to perform an amazing and challenging mission, but that we have added comets to the game, including new career mode contracts to detect and visit them! Comets will appear in all game modes and have a very distinct look from regular asteroids with gorgeous tails and larger dimensions. With some luck, you might even see one that is passing through from interstellar space!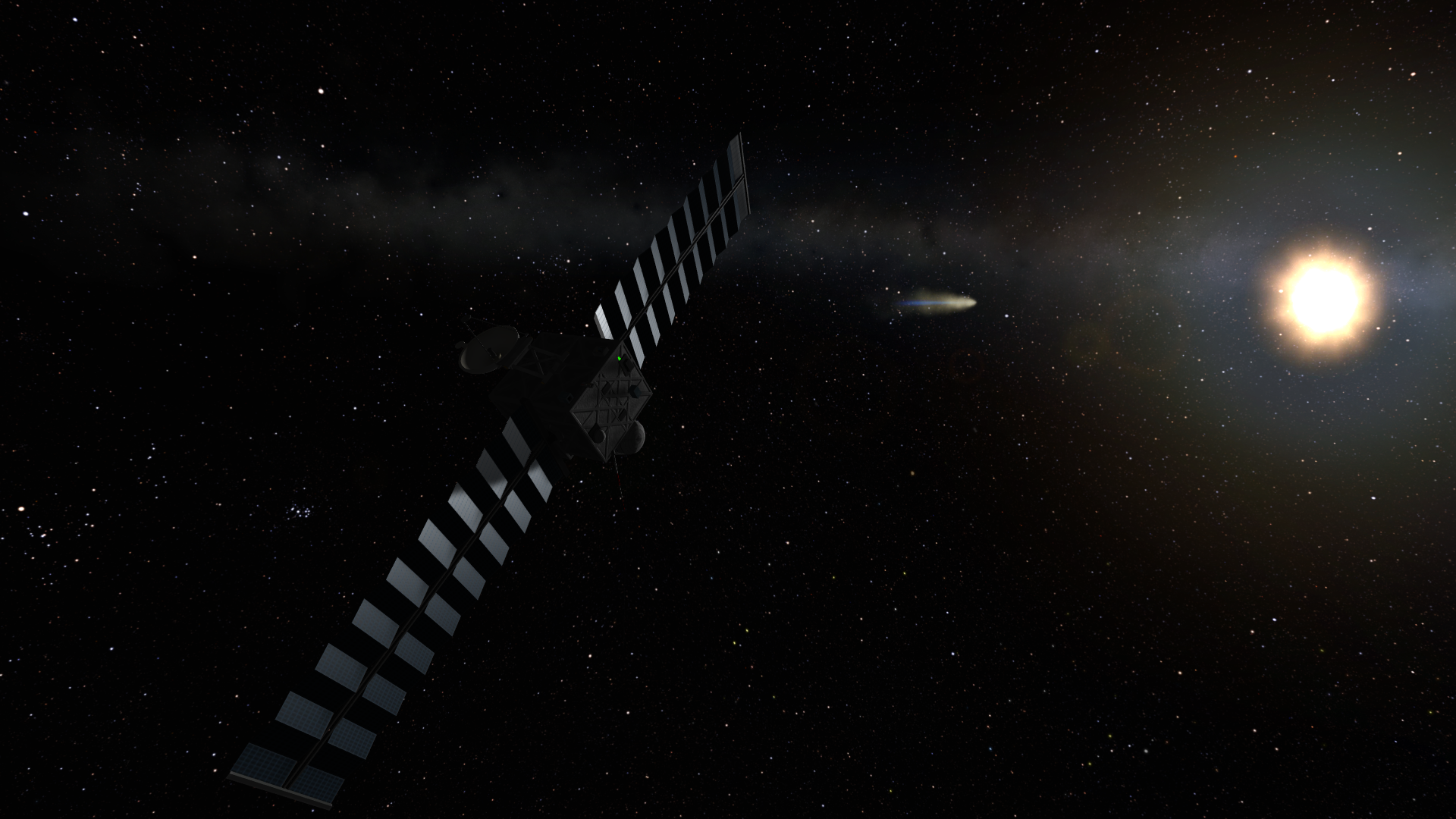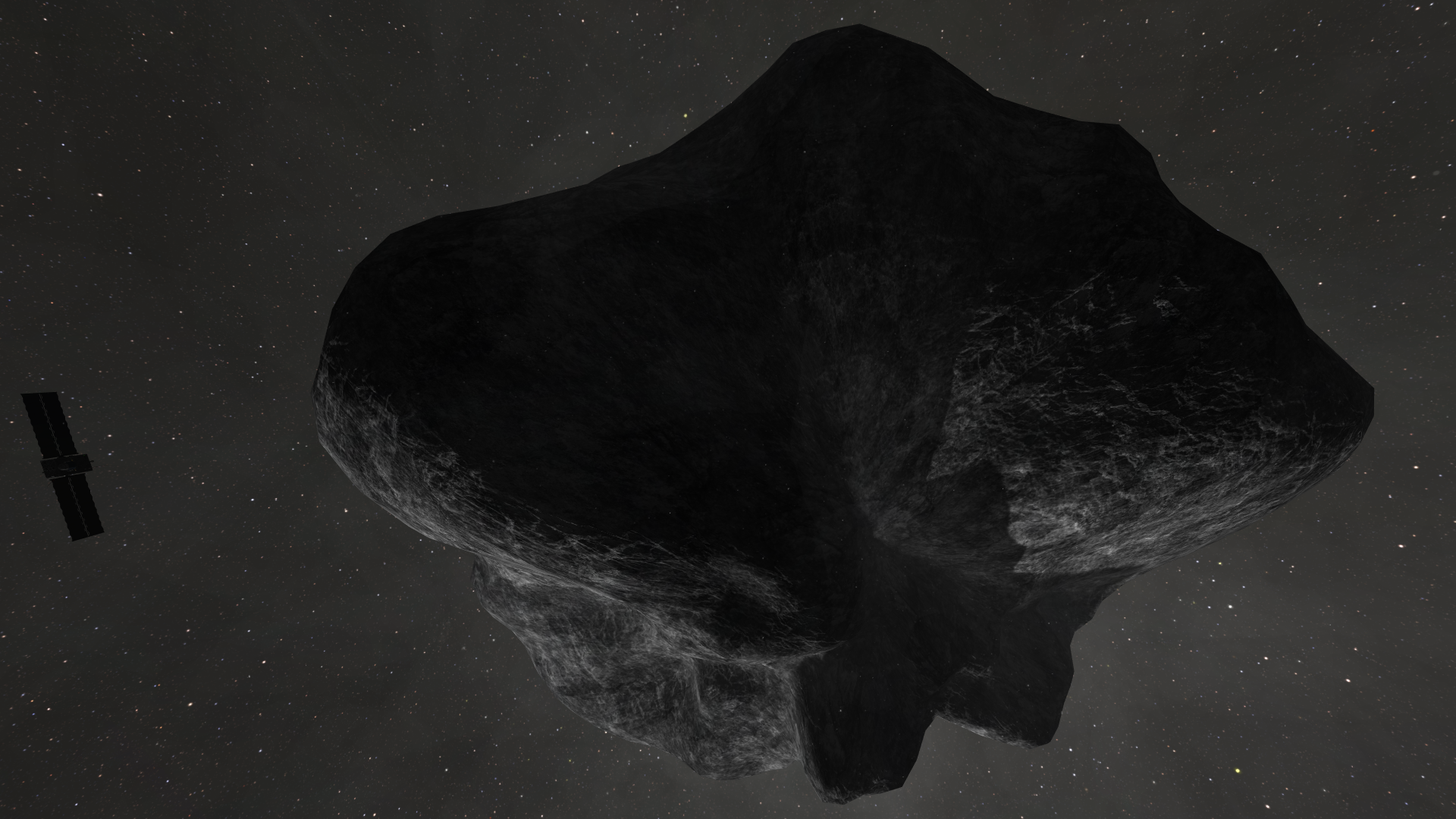 Click here
to see more high-res images.
Suit picker
We're including an improved suit picker in the 1.10 update, so you can easily dress your Kerbals to your liking. When clicking on the hanger icon of the crew tab, you'll not only be able to choose any of the different EVA suits available across the base game and the expansions, but also decide whether you want your kerbals to wear the veteran, IVA or EVA color combinations of any of the suits - including a new ESA suit texture option! This feature will also make it easier for modders to add their own suit textures to the game.
Flag parts
You probably noticed that the Kerbal's Ariane 5 we previewed a few weeks ago is decorated with a variety of flags. As some of you have guessed, we've added flags as surface attached parts that you can now add to your vehicles, for those multi-mission or multi-agency crafts. You'll be able to place the flags horizontally and vertically, on curved and flat surfaces, plus choose the size and whether you want to place a white, dark, orange or transparent background for them.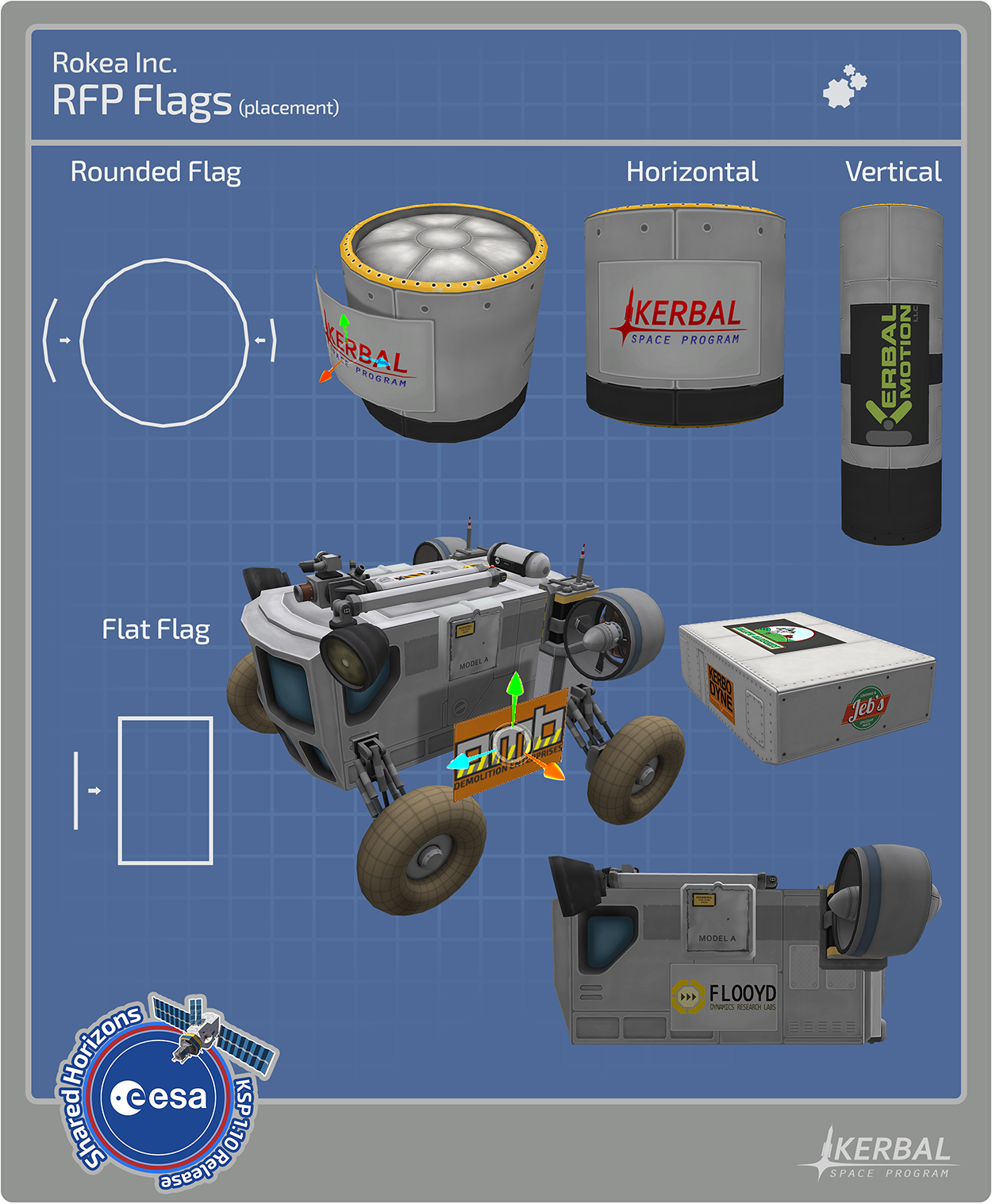 Advanced Grabbing Unit Jr.
We're introducing a new smaller version of the Klaw, a device whose primary purpose is to capture asteroids and basically anything it can put its claws around, maybe even comets. This new version has a radial size of 0.625m in contrast with the original's 1.25m. Thanks to its size, this smaller unit will be quite versatile, plus we're including a second darker variant for it. We're curious to see what the community will contrive with the Klaw Jr.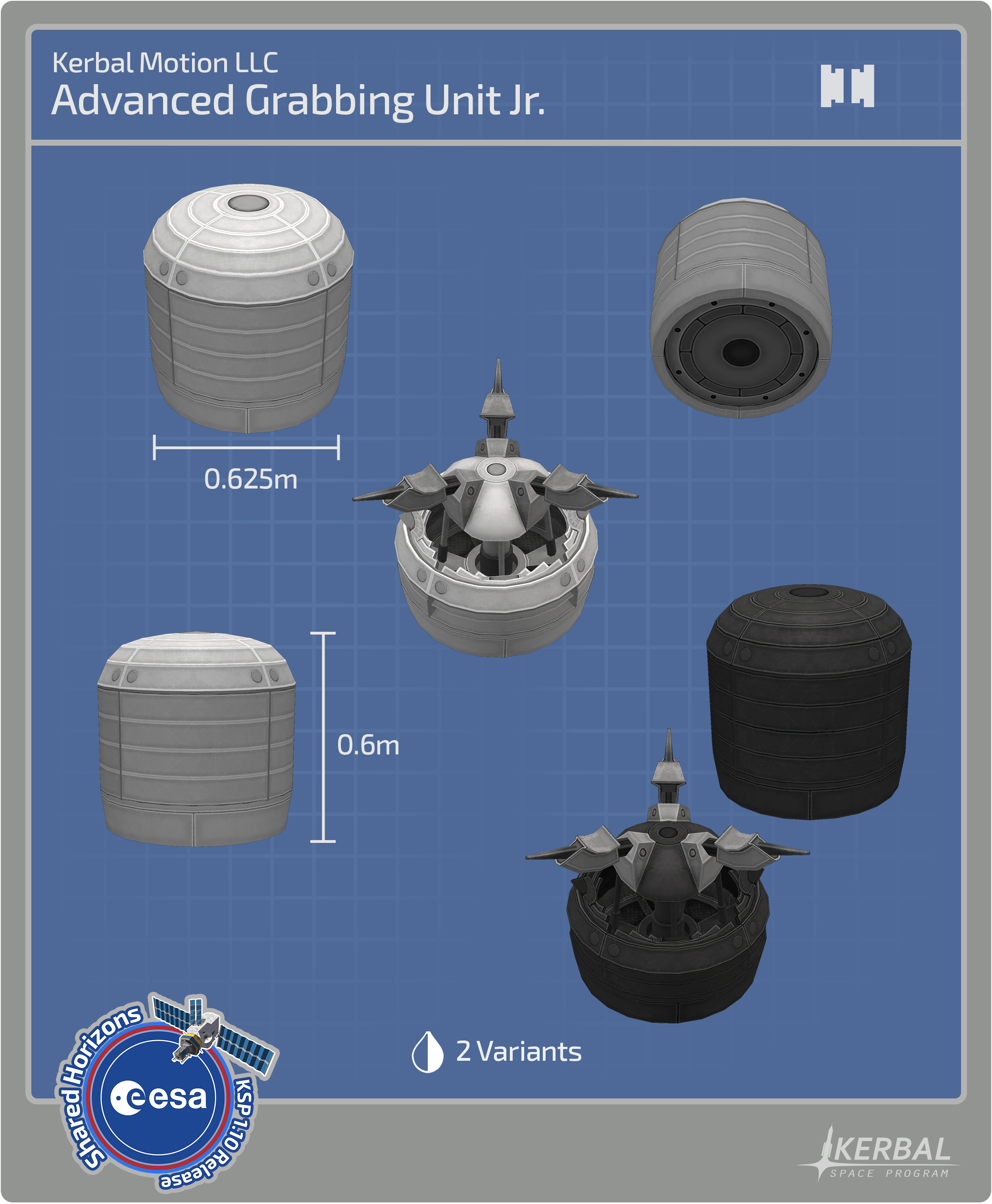 New part variants & improved control over Fairings
We're including several part variants for the Shared Horizons update in order for some parts to match with ESA's style. These include variants for fuel line, struts, fairings, as well as for the Baguette, Dumpling and Doughnut external fuel tanks, among others.
Fairings have gotten an upgrade as well, making it easier to set up open-ended fairings, and now you can fine tune the shape of your fairings better as well.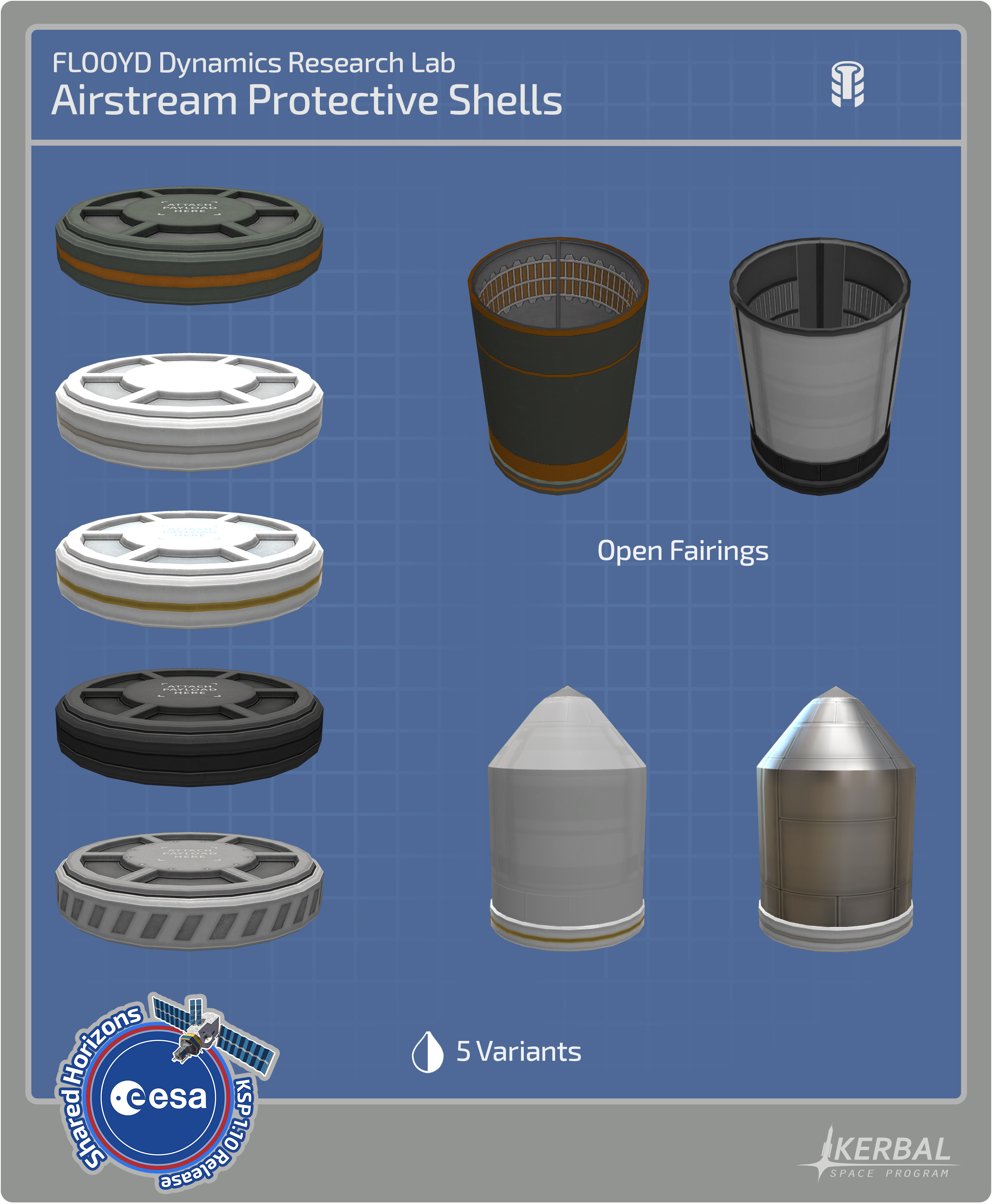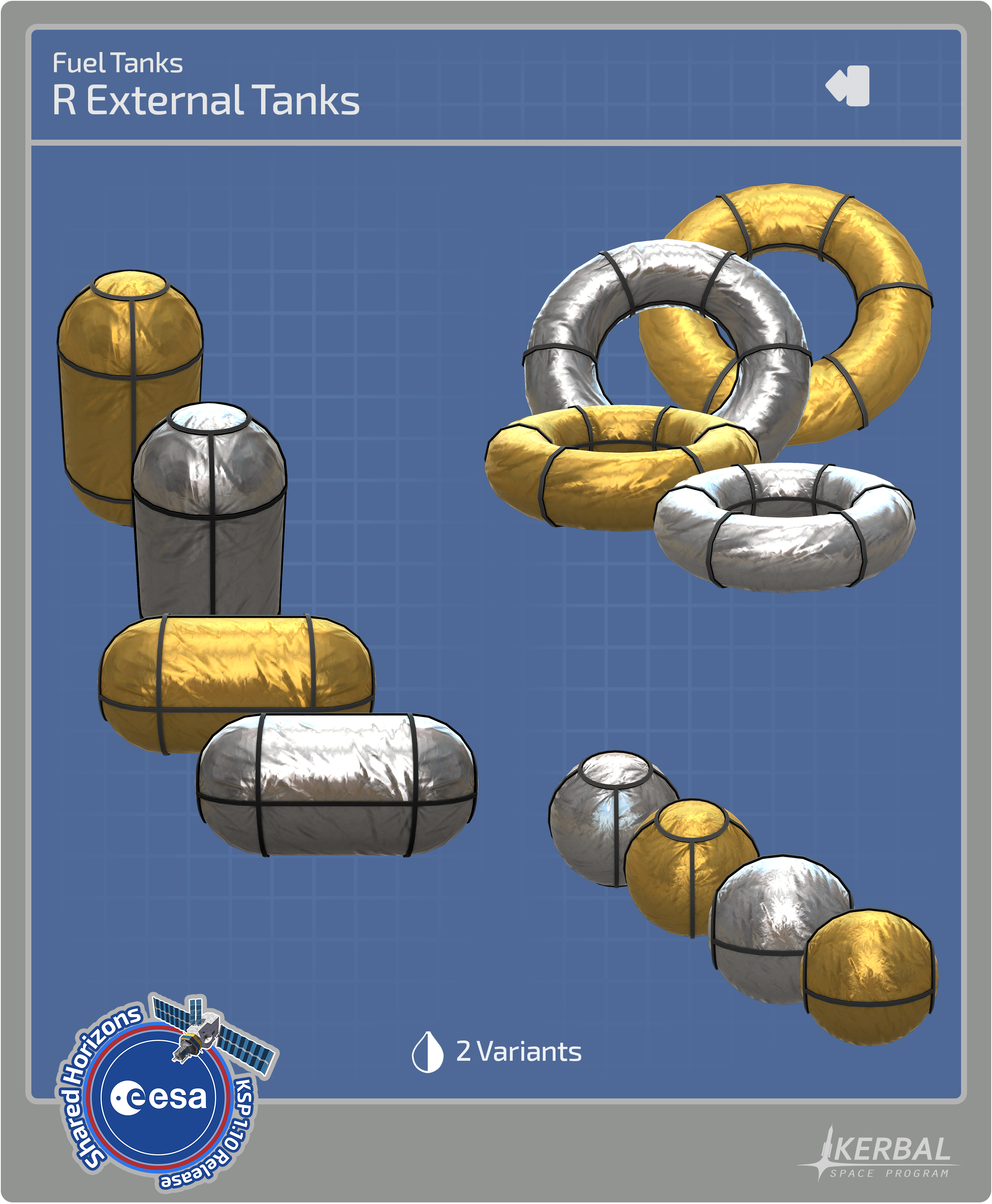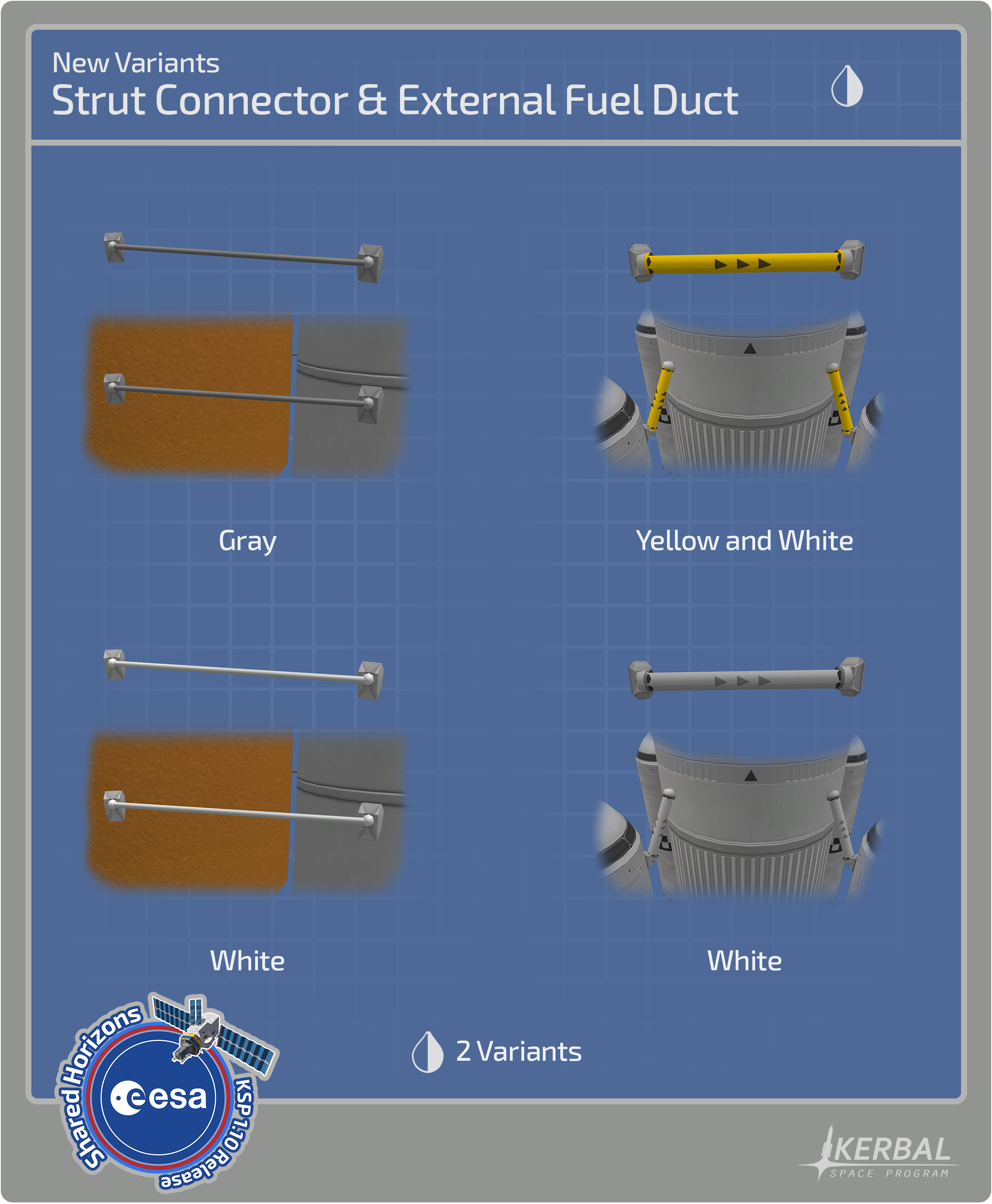 S1 SRB-KD25k "Kickback" Solid Fuel Booster
This heavy solid rocket booster is getting a variant so that it can provide your Ariane 5 that additional thrust needed to launch your probes and modules to outer space.
Rockomax X200-32
The Rockomax X200-32 Fuel Tank is also getting a third ESA variant for it to match the Ariane 5 color scheme.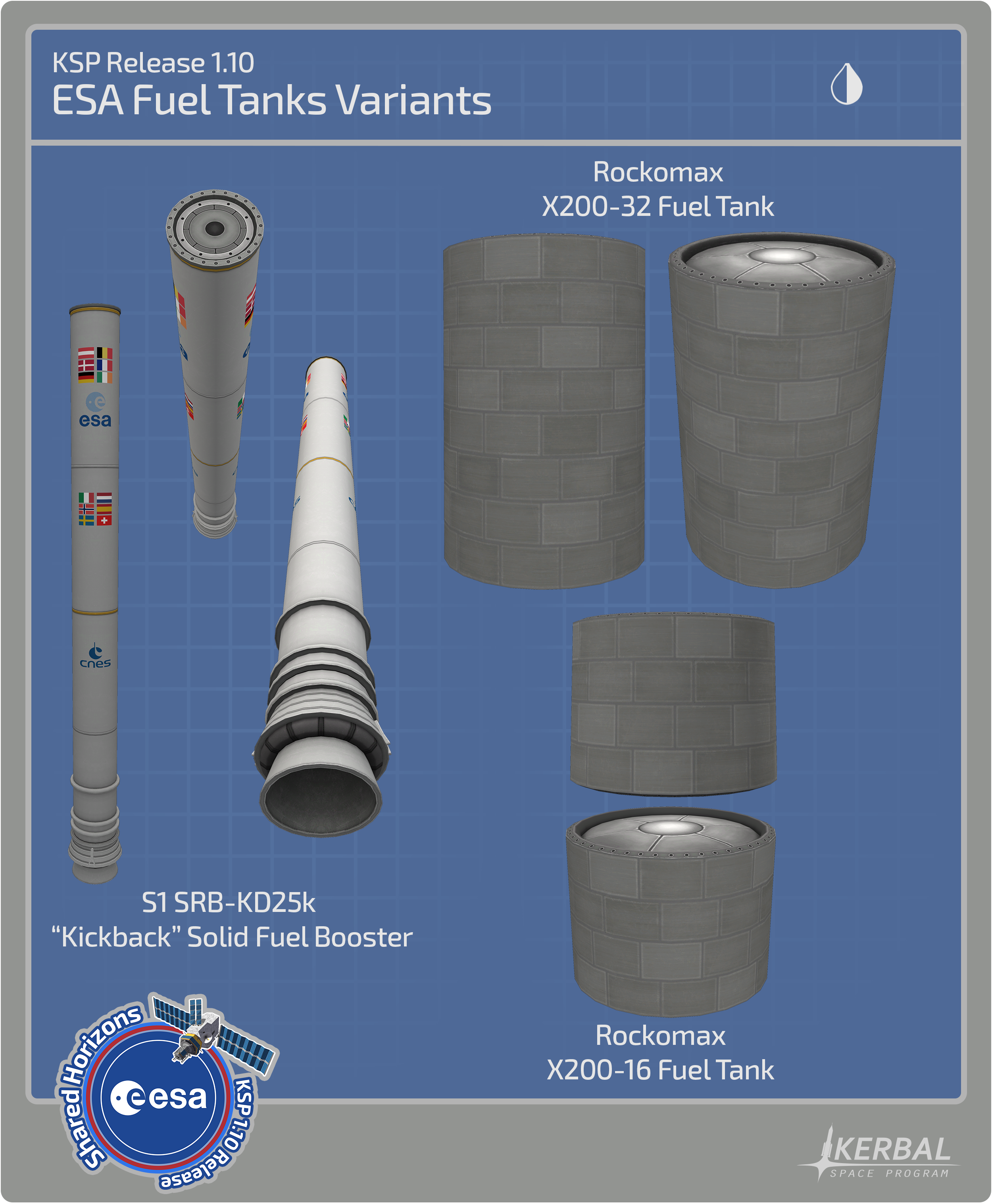 Click here
to see high-res images of the variants, the flag parts and Klaw Jr.
Planet Revamps
Jool
The legendary green gas giant has received a major revamp. Jool did not only receive high-quality texture & graphic shaders, but also animated clouds, which are particularly beautiful when time-warping around this colossal green sphere.
Laythe
Jool's innermost natural satellite is also getting a well-deserved visual makeover. The new high-quality texture maps and the proximity to Jool will surely make Laythe one of the most coveted destinations for those Kerbonauts who just want to enjoy a nice view at a beach.
Remember, you can share and download crafts and missions on
Curse
,
KerbalX
, the
KSP Forum
and the
KSP Steam Workshop
.
That's it for this edition. Be sure to join us on our official forums, and don't forget to follow us on
Twitter
,
Instagram
and
Facebook
. Stay tuned for more exciting and upcoming news and development updates!
Happy launchings!